NEIGHBORS – A GREAT LEAD SOURCE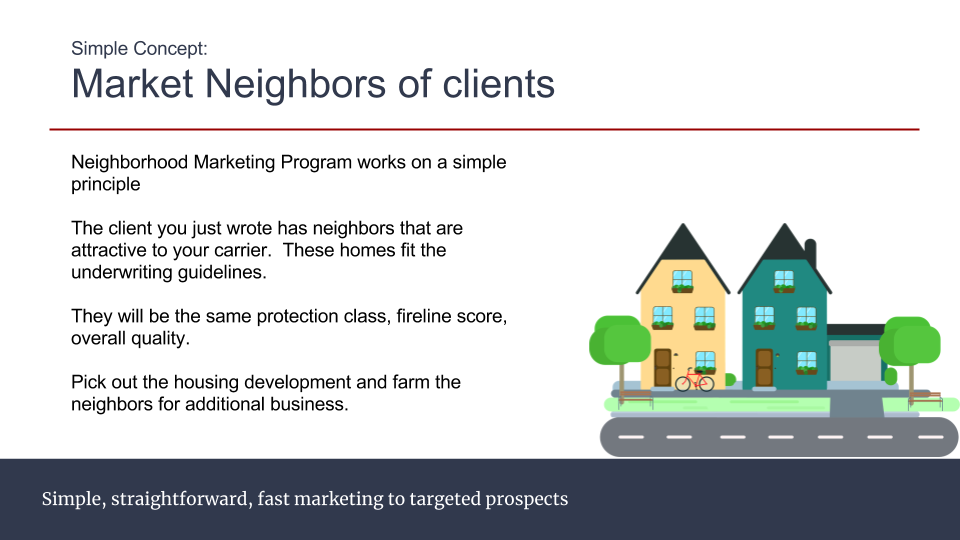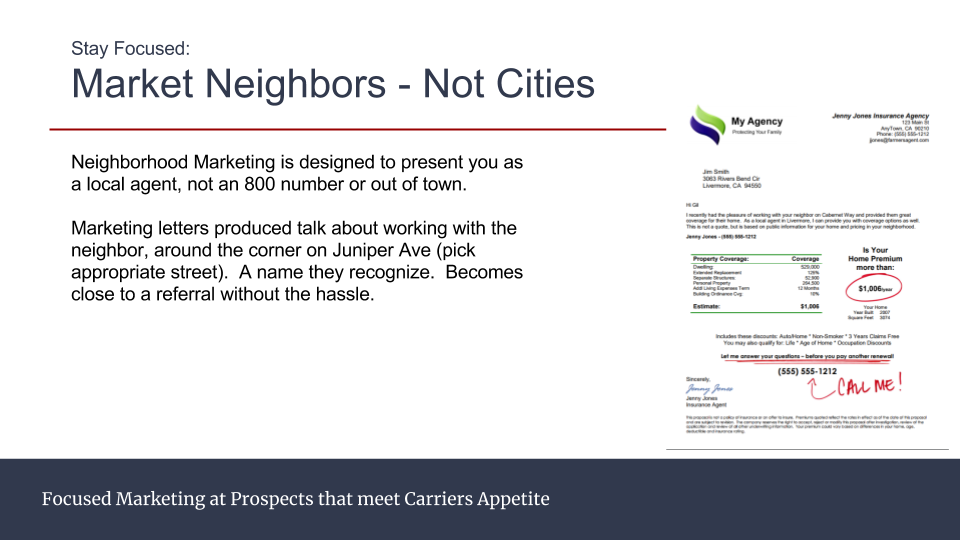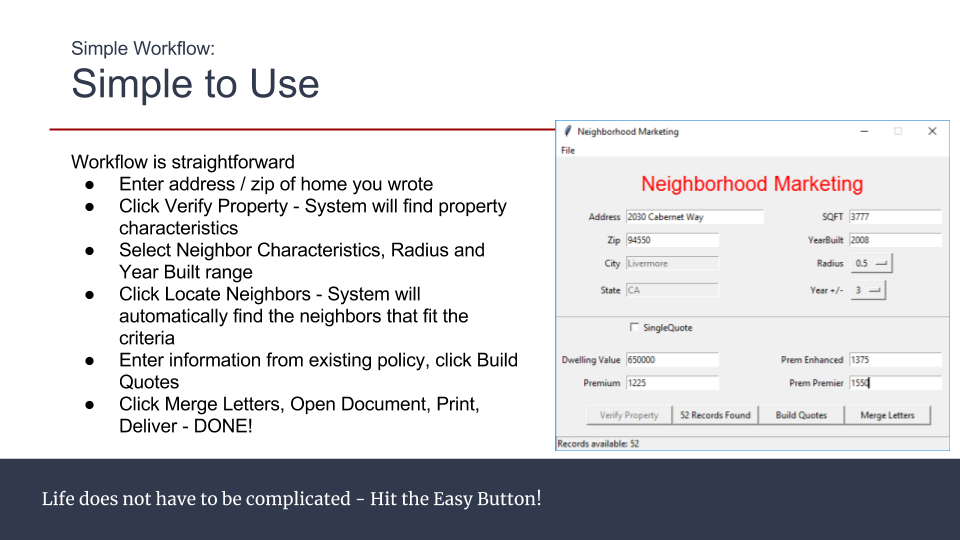 When I started as an agent, one of the marketing suggestions I was given many times was to market to the neighbors of the clients you just wrote.  These would tend to be prospects that are in a market that you have a competitive homeowners policy for.  This made sense, but I could never come up with a way to create a solid 'Call To Action' marketing plan, something to get the prospects to respond. ​ Everything was generic, not targeted at the neighbor.
CALL TO ACTION
My Neighborhood Marketing Program will automatically find the neighbors of your client that have houses built within a few years of your client.  Based on your existing client, it will make changes to the premium / dwelling based on the prospects home, Not a quote, just a pricing indication to create a personalized 'Call to Action'.
Here is a what a sample letter looks like:
QUICK DESCRIPTION
In short, you put in the clients address and a few details from their policy such as dwelling value and premium, the software will find up to 100 homes in the neighborhood (within a 1-5 mile radius) that match the same characteristics of the home.  It will automatically create customized letters or flyers for you, which you can then mail, email, or simply drop off at the home.
The software will create a geolocation (latitude / longitude) for the existing client.  Then, based on the selected radius for prospects, it will search an online database for matching households, focusing on those closest to your existing client.  You select how much the prospect can deviate from the client, defaulting to a 1 mile radius and within 3 years (+/-) of the same year built.  The software will then pull that data local, take the clients premium and make adjustments based on square footage of the home and create both a spreadsheet of prospects and even generate a mail merged Word document for you to print.  Since the letter is just a word document, you can make changes to the format as you want.
PRICING
$369 per 12 months from signup includes 1000 data pulls per month or 12000 per year total.
FAQ
Do I need a special lead list? 

The software will automatically pull data from an online database.  This is required to allow for proper geolocation of neighbors and tracking home characteristics (year built / square footage).  No additional lead list is necessary.

What discounts and deductibles does it quote with?

Effectively it uses the discounts and deductibles that you used when you wrote the original client.  If you want, you can re-quote that client with different options and use those numbers.

How do you calculate dwelling value?

This is based on the dwelling value of the original client with an adjustment for changes in square footage.  Since the idea is to target the same neighborhood, usually homes will be built by the same builder and have the same general overall quality.

​What do I do with the quoted list?  How do I benefit from this?

These are designed to help you market in your selected area, focusing on the area where you have already written clients.  This allows you to take advantage of where you likely have a competitive rate.

​How many neighborhood letters can I / should I run?

Up to you.  I recommend keeping it to a small radius and getting out of the office and walking to drop off the letters.  In essence, you want to focus on the same housing development as the original client.
Anything else I should know?
Keep in mind, these are marketing 'price indicators', not underwritten quotes.  In no way should they be thought of as quotes.